On Saturday the 18th of June I traveled by Eurostar to London together with a friend. It would be a short stay, only the weekend itself. Our main purpose was to see a play: we had tickets for Romeo and Julliet at the Garrick Theatre.
Although it was the middle of June, it wasn't summer yet. The temperature  was cool but pleasant,  around 18 to 20 degrees. We walked from St. Pancras station to the National Gallery at Trafalgar Square. There was some festival taking place on the square. It looked like fun, but we ignored it since there was a huge queue to enter it. A queue that went on for several blocks, so we entered the Gallery instead. Part of the impressionist wing is still closed for renovation, but Van Gogh's Sunflowers can be admired. We didn't stay long since we've both visited the museum several times already, we just went to see our favorites again, such as Rubens' A View of Het Steen in the Early Morning.
Belgium's football team, the Red Devils, played against Ireland in the afternoon as part of the European Championship. Since we're both avid fans we looked for a pub near Leicester Square to watch the match, and to have lunch. It was steak & ale pie for me, fish & chips for my friend. We flushed down the decent food with beer and cider. The television was acting odd at times, maybe a lagging satellite connection: moving players became a bit blurred and had 8 legs. Belgium crushed Ireland with a 3-0 victory. Giving us (idle) hope for the matches to come and putting us in a very good mood.
After the match we went south, crossed the river Thames and headed to our hotel: the Westminster Tune Hotel. It's the third time I stay there. Many services are available as an option (early check-in, WiFi, hairdryer,…) and if you select them, you pay for them. But if you are satisfied with the minimum, it's quite cheap. We had a decent and clean room that was also small and windowless. Next to the hotel there is a pub: The Horse and Stable. We went there for dinner and WiFi. While we ate a tasteful 'house burger' we watched the first half of Iceland – Hungary. We didn't see the second half because we needed to get to the theater in time for the play.
We walked back north to the Garrick Theatre, which is near Leicester Square, were we spend the afternoon. The doors closed at 19h30 and not a second late. We would see Romeo and Juliet in a direction of Kenneth Branagh with Richard Madden as Romeo, Lily James as Juliet and Derick Jacobi as Mercutio. The play has a duration of 2 hours and 45 minutes including a 15 minute break. I found it a very powerful performance. At times I didn't understand all the words, but that did not lower my experience. Juliet did not grab me as much as Romeo. But overall, it was very good and I enjoyed it very much. The decor and costumes are set in the 1950's and the stage changes smoothly from square, church, crypt to balcony. Next to me was an unoccupied seat, next to it was a thirty-something year old  guy sitting. He used the space of the seat to store several drinks on the ground. He joked that everyone should have an extra seat for storage. I wondered if he was serious and had booked an extra seat. He had two pints of beer for himself during the first half, and came back after the break with two more. Twenty minutes into the play came the answer when a young women rushed to the seat, moving so fast that I could not prevent her tripping over some of the stored pints.
After the play we headed towards the hotel and stopped by the Duke of Sussex, near The Old Vic, for a drink. We had been to this pub in November 2014, but in the mean time it had changed, there was no karaoke anymore. When we remarked this while we were standing outside looking in, a passer-by overhearing us, burst into laughter. We had some local craft beer and we were discussing the play when we got into a conversation with a slightly drunk Englishman, who was part of a party sitting next to us.  He wanted to speak German with us, thinking we were speaking German and not realizing we were speaking Dutch. We talked about differences between Dutch and German and explained that Dutch speakers are not necessarily Dutch, his next assumption, but that they can also be Belgian. This being England, the pub closed at 23u30, and we continued towards our hotel.
We chose an excellent timing to visit London. It was the opening weekend for the new wing of Tate Modern and because of this there were several volunteers giving talks about their favorite art pieces in the museum. The old power station turned into a modern art museum is very stylish. I quite like the architecture of the concrete and lines and prefer it above Paris' Centre Pompidou. We saw the free collections in both wings and listened to some interesting stories. My favorite story was about Dali's Autumnal Cannibalism. On the top floor (level 10) Tate Modern offers a nice and free view of the London skyline. The viewing platform of the Shard is a bit higher, but costs around 20 pounds.
We crossed the Millennium bridge to St Paul's Cathedral, and headed to the British Museum. On the way we lunched in The White Swan where we had the Sunday Roast Beef and I had a Fourpure Session IPA to drink.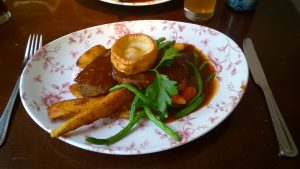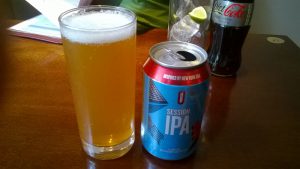 This London craft beer is quite fruity. It's a bit strange for me to see a beer that's only available in draft or can, not in bottles. I found it tasteful and it went well with the roast.
After the lunch we continued to the British Museum. Before we could enter the museum we had to pass through a security check where all big bags were searched. I have the feeling that the definition of a big bag is dependent on the size of the queue. We didn't stay very long in the museum, we focused on  some special items. My favorite part of the museum is the Japanese section on the top floor. No only for the displayed items, but also for some practical reasons. Since it's the furthest to reach, it's less busy then other parts, such as the Roman or Egyptian sections and it's also a bit darker and cooler.
Time flies, and we didn't have a lot of it to start with. We left the museum and  headed towards St Pancras. On the way we stopped in a Starbucks for coffee and cake and reminisced a bit about all the things we'd seen. It was an excellent weekend.